October 28, 2016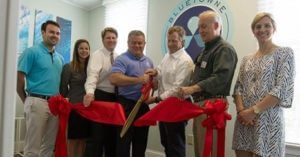 MOUNT PLEASANT, S.C. – (October 27, 2016) – Bluetowne, a leading provider of innovative information technology solutions, celebrated its recent relocation to 10 Resolute Lane, Suite 200 here with a ribbon-cutting ceremony today. Mount Pleasant Mayor Pro Tempore Gary Santos, along with Councilman Will Haynie, staff and representatives from the Mount Pleasant Business Association and Charleston Metro Chamber of Commerce, were in attendance.
The new office space means new amenities for employees, an easily accessible central location for clients, and an atmosphere on point with the company's brand and culture.  "We were fortunate to find the perfect space so close to our former office, and we really enjoy the business climate in Mount Pleasant," said Eric Hartley, President, Bluetowne. "We also wanted to limit the impact that relocation could have on our clients and our internal team."
"I don't think we could have landed in a better spot," Hartley said. "Our new location will help enhance our operational efficiencies and enable us to continue to grow and evolve to keep pace with our client's needs, allowing us to provide exceptional value and superior service along the way."
"We are delighted to see Bluetowne continue to put down roots in Mount Pleasant," said Mount Pleasant Mayor Linda Page. "Their continued investment in the Town is testament to the success of our focus on supporting existing businesses."
"I couldn't be happier to welcome Bluetowne to their new home in I'On," said Mayor Pro Tempore Gary Santos. "We hope to see them continue to flourish and provide quality services and jobs in our community."
About Bluetowne:
Bluetowne's mission is to provide expert, customized end-to-end IT solutions through remarkable customer service. From the mouse to the datacenter, we serve as trusted advisors to clients of all types and sizes and across all verticals locally (including Mt. Pleasant, SC, Charleston, SC, and Summerville, SC) and regionally to advance customer achievement through efficient and cost effective execution. Visit www.bluetowne.com or call 843.352.0130 for more information.
lmitchum